The Best Wedding Dresses For Your Astrological Sign
Looking for some indication of what you'll want in a wedding dress now that you have the ring? Look no further than the stars for inspiration. Our exclusive astrologer Rebecca Gordon weighed in on what wedding dresses you should be considering based on your star sign's fashion predilections.
Aries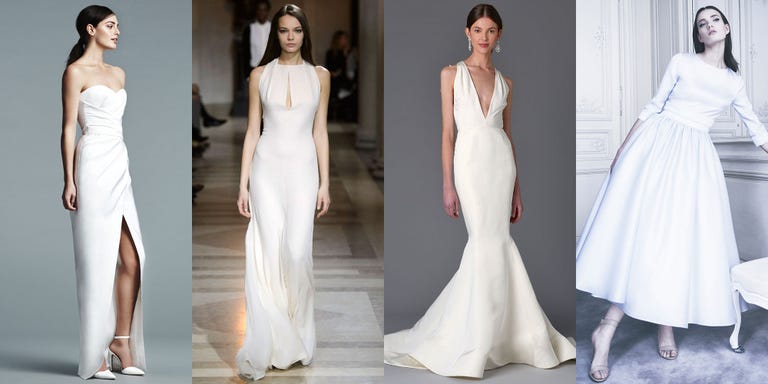 Wedding dresses aren't typically an Aries style. This is a no-fuss, go-getter sign. Most Aries women want something that doesn't have too much lace or too much detail. This is the girl who was part of the boy's club growing up–her wedding gown should be simple, clean and easy to get on and off. An Aries loves things with clean lines and sharp angles. This bride would be one to change into something else later in the night that's easier to dance in. A fire sign with lots of passion, Aries are full of energy; they're going to want to dance all night with their friends. Aries are attracted to sharp whites over creams– think anything that borders on sporty and stay away from crinoline or too many layers of tulle. Aries brides definitely do not like anything that hearkens back to antiquity or is reminiscent of a time bygone–this is a bride whose all about keeping things modern.
Taurus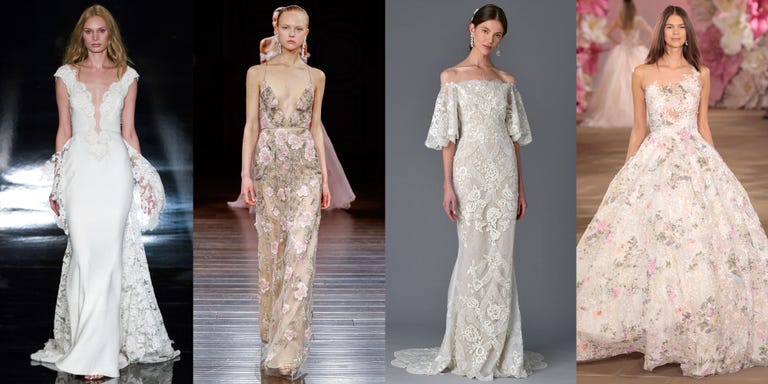 Taurians love wedding dress shopping because they're ruled by Venus, the patron of the arts and all beauty. This is a sign that can really appreciate textures and fabrics–and wedding dresses that feel as good on the inside as they look on the outside. Soft silks that swish up against the legs and fabrics that are nice to the touch are key for a Taurus bride. This bride loves layers and things that are very luscious to the eye and to the touch. A Taurus bride will also love florals–this is a sign that can really enjoy the height of romantic beauty. Taurus rules the neck, and they tend to have beautiful shoulders and decollates–we're going to want to show that off. This sign is 100% feminine and loves time-honored things, not trends. This bride wants something of quality, something that they are going to be able to pass down. A Taurus has high expectations; everything needs to be top notch.
Gemini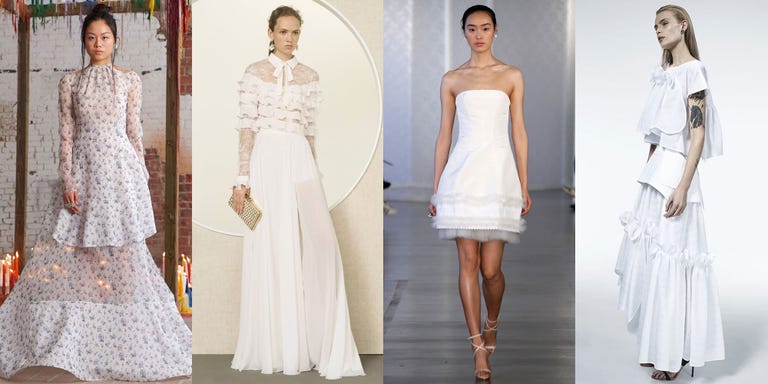 Geminis are fun. This is an air sign and their style has a bit more of a light, pixie feel to it. Something that isn't too heavy and layered is key for a Gemini bride. Geminis are really good at mixing prints, textures and fabrics; they can sort of throw it all together and really make it rock–it looks great when they mix and match. With this bride, there's a simplicity too; it's just sweet. Geminis have a lot of fun putting outfits together, and it comes quite naturally to them. This bride likes fringe, tassels and little, fun accessories on a dress. For them, it's about textures, embellishments and prints–but in a light, more whimsical way. Geminis have something about them that can be a little 60's mod at times; they are the type to wear a bright-colored shoe or piece of jewelry that offsets everything. With a Gemini, it doesn't need to be matchy-matchy–this bride likes it when something stands out from the mix. But, her look can't be too complicated or hard to move around in–she wants to be most focused on the conversation and talking to her guests. This is not a pretentious sign, it's a convivial sign–this bride does not want to off-put any of her guests or appear too over-the-top.